Call Us Now 720-336-4628

Locating The Best Garage Door Repair Commerce City Company Near You
If you currently live in Adams County, specifically in Commerce City, you are very fortunate if you need to have a little garage maintenance done. Even if your garage door is only a few years old, there are always problems that can occur. Some of these problems may include the garage door motor turning on, but the door refuses to move. Conversely, when the garage door closes, it will shut much too quickly, hitting the ground with a large bang. For all of these problems and many more, you can easily locate a garage door repair Commerce City company that will be more than happy to come out to resolve your issues.
Top 5 Problems With A Garage Door
There are quite a few problems that you may encounter with a garage door, but there are definitely five that are more common than others. The easiest problem to resolve is a transmitter problem, something that can be easily fixed by simply replacing your batteries. Your garage door may not go up which may have to do with the extension springs going bad. Another problem is the door going all the way down, then back up again, typically a problem with the garage door opener settings. A fourth common problem is a misalignment of the photo eye, which is caused by something perpetually breaking the beam. Finally, you may have a track on either side that is also misaligned, preventing the door from opening all of the way. Regardless of which problem you are dealing with, or if all of these issues exist with your garage door right now, a local business in your area will be able to identify what those problems are, and resolve them very quickly, by simply providing the maintenance and repairs that your garage door obviously needs.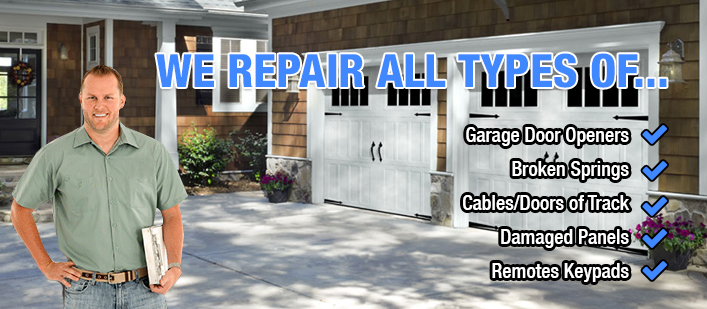 There are springs located at the rear of the garage up near the ceiling which provide tension so that the door opener does not have to work so hard in moving the heavy door up and down the tracks. The tension on the springs helps the movement of the garage door by expanding on the downward movement of the door, and contracting on the upward movement of the door.
AE Garage Doors
4475 E. 74th Ave #240, Commerce City CO 80022
720-336-4628
The Brand We Work With
genie
lift Master
amarr.com
chiohd.com
raynor.com
clopaydoor.com
haasdoor.com
doorlinkmfg.com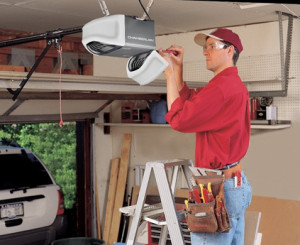 Tips On Finding The Best Garage Door Repair Commerce City Business
There are three specific strategies that you can use to find the best company for this particular project. If you know someone, preferably a neighbor that has used a company recently, they can simply give you a recommendation. The phone book will also have the names and numbers of the different companies that offer this service, but not a lot of information on how reliable or affordable they might be. Your best choice is using either your smart phone or computer to research each company individually. It's much easier, however, to just go to a website like Yelp or you can see what other people have to say about commerce city garage door repair companies. Once you have a few of them chosen, and you have estimates back from each one, it will make it very simple to schedule them to come out to provide maintenance for your garage door, and repair any problems that they find.
If you need to have your garage door looked at due to intermittent problems that you are experiencing, you should certainly consider contacting a reputable garage door repair Commerce City business to help you resolve any problems that you have. If you are facing a situation where the garage door is opening and closing randomly, or if it is getting stuck halfway up or down, these professionals will check each and every component of your garage door, and fix any problems right away. Best of all, by getting estimates from these different companies that come highly recommended, you should have no problem at all fitting this into your budget using a local Commerce City garage door repair business. It is a very simple process, one that will make your life so much easier once you have a fully functional garage door once again.
Why Homeowners And Businesses Choose Garage Door Repair Commerce City Company?
Security is what every homeowner wants all the time and it can be obtained by installing top quality garage doors. If you are also looking for assistance for your garage door opener issues, the best action to take is to call a garage door repair Commerce City company. Many people believe that finding a garage door repair service is time-consuming. The truth is that looking for a professional company is so quick and easy. Read on to know why most commercial and residential spaces prefer enlisting the services of a garge door repair expert.
Most repair companies established in this city have created a business website to provide an instant response to the questions of the customers. You can try browsing the web and take a look at some trusted companies that have good reviews.
One reason why most business owners and households look for a garage door opener service in Commerce City is the benefits it offers. Once you call a repair contractor, it ensures that you get the exact service you need. Of course, you always expect an excellent service from any company especially if you pay a reasonable amount for it.
Another reason why a garage door repair Commerce City company consistently gains trust from more individuals is that it offers prompt repair services. Through an emergency service 24/7, you feel less worried thinking that you can contact a professional to keep you safe even in the middle of the night. Moreover, you can take advantage of the same day service that a repair company offers to get the issue addressed accordingly.
Whatever the reason is, a garage door repair company in Commerce City is the perfect solution to your problem. Maintain the security and safety of your loved ones and your properties by asking for the help of an expert garage door service company.